Four Winters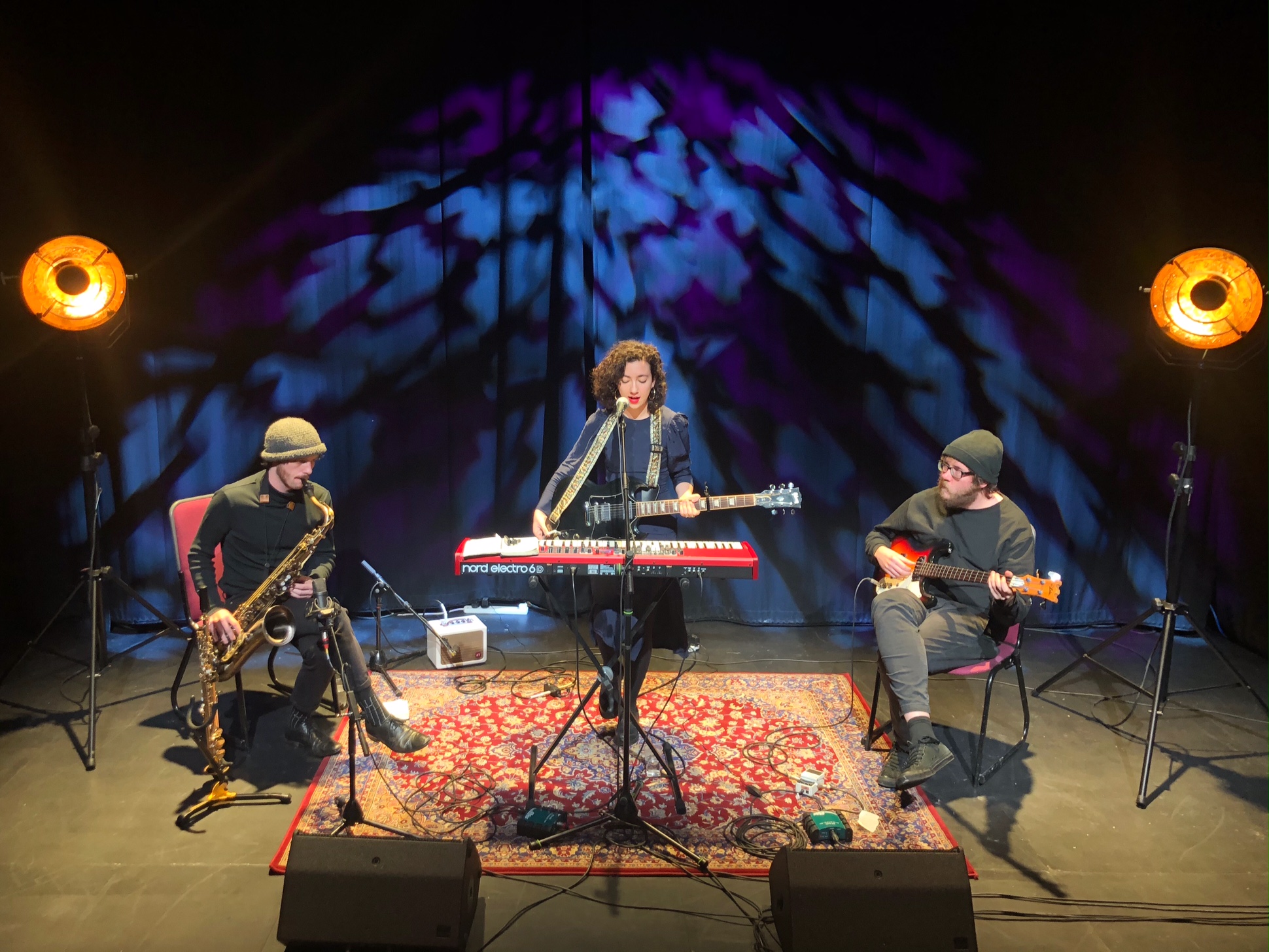 In December 2020 I was commissioned by The Dock Arts Centre, Carrick on Shannon to write a new song for their winter series exploring grief and healing. The resulting song 'Four Winters' was recorded live at the Dock with Dan Walsh (Fixity) on saxophone and Chris Barry on bass and broadcast online as part of Whose Woods These Are festival in January 2021 and then again as part of a longer recorded performance at the Dock, broadcast online in February 2021.

You can listen to/ watch the song here, at 14:45 or the full performance below.




Not of Longing, but of Light


Sound and text, commissioned by Sirius Arts Centre, February 2021

'Not of Longing, but of Light' is an ambient sound piece and text inspired by 'Heartbreak Pier', the last point of departure for the RMS Titanic before it sank in 1912. Comprised of field recordings, improvised drones and voice, it was commissioned by Sirius Arts Centre during my residency that took place in December 2020-February 2021

February 2021
"have been thinking about remembrance and haunting, as an invisible practice of memorial, as well as processes of transformation and the lineage and overlapping of histories in the built landscape. The title, Not of Longing, but of Light, is a quote from author Maggie Nelson's 2009 book Bluets, taken from a passage about overcoming loss and grief and imagining a form of renewal. I was drawn to 'Heartbreak Pier' as I found something poetic in witnessing a site of loss and grief become a site of decay. Drawing on the custom of holding a minute of silence as a mark of respect, I recorded a minute of silence – but with the air 'full' of background noises (birds, water, and so on) – at 'Heartbreak Pier' every day for five days and combined those recordings with improvised drones and my voice. I am interested in how listening can be an imperceptible way of bearing witness/holding space to acknowledge what has occurred without commodifying tragedy."

Bath Time
---
My debut album 'Bath Time' is a collection of songs exploring female experiences and shadow histories throughout art, history and folklore. It centres primarily on voice and electric guitar with harp, strings, analogue synth and more experimental instrumentation. The writing was heavily inspired by the narrative style of traditional folk ballads, but reconfigures this form to excavate intimate personal experience and to explore aspects of the lives of numerous sidelined historical women such as Bridget Cleary, Jean Rhys, Edie Sedgwick, Elizabeth Siddal and Mary Magdalene. It was released in November 2019 through
Trapped Animal Records
and was shortlisted for the prestigious RTE Choice Award Irish Album of the Year. It received five star reviews across a number of media outlets including The Irish Times. It was described in the Sunday Times as "quietly breathtaking [...] the arrival of a unique new voice."
"A real timeless quality is rare in so much of modern music, but the delicate timbre of Maija Sofia's music is impossible to ascribe to particular moment. She doesn't occupy an easily identifiable space - there are few genres which could accurately pinpoint her sound - and the ease with which she weaves grand tales of mythos into short and delicate folk tunes suggests a true finesse. Her subject matter is seldom trivial - abuse, mythological stories, feminism and loss are considered with a confident serenity.."
- Andrea Cleary,
The Irish Times
Listen to or buy the album here:
Bath Time
image: Jilly McGrath
Praise for Bath Time
" There is a timeless quality to Sofia's songwriting style that becomes more crucial with each listen." 5/5 Louise Bruton,
The Irish Times

"awe-inspiring depth [...] a triumph" 10/10
The Last Mixed Tape
"a natural storyteller [...] people will be listening to Maija Sofia's work for many, many years to come."
Zara Hedderman,
Totally Dublin
"Brutally beautiful. The messages of Bath Time are vitally important. " 9/10
Craig Howieson,
The Line of Best Fit
"This is a brave debut from Maija Sofia. It would have been very easy to exploit her ethereal vocals and songwriting stengths to romanticise her native Ireland. Instead she uses this debut album to make a defining statement about the role of women, and seeks reparation for their misrepresentation over the centuries in both culture and legend."
Fatea Magazine

artist / musician / writer / maijasofiamusic@gmail.com